Paradise Found
I have just returned from one of the best vacations ever. Five friends and I rented a 45' catamaran and sailed around the windward islands in the Caribbean for 5 days. We did what's called a "bareboat" charter, which means that we crewed it ourselves.
The trip went like this:
Day -1: SFO to JFK, JFK to SJU (San Juan, Puerto Rico). Got in late and spent the night at a hotel at the airport (like at the check in counters -- a really convenient way to go, I expect to see more hotels like this in the US).
Day 0: Met up with Nicole in the a.m., switched to a hotel on the beach, ate good food and enjoyed the Caribbean weather. Mark and Rachael flew in the evening and we all went to dinner. Spent one more night in Puerto Rico adjusting to the air temperatures in the 80's and water temperatures in the high 70's.
Day 1: Met Kent and Erin at the airport in the a.m. and flew to Martinique to pick up our boat. The boat is made for bareboat chartering and is an easy sail. It has little features like clear decks (anchor chain is under the trampolines and the mainsail rigging is all above the sun shade), lots of conveniently located cleats and winches, a big galley area, a big aft deck in the shade, a huge fore deck to lounge on ... here's the link: Moorings 4500.
Martinique is about as close as we let French people to the U.S. (not including some Canadians). It's actually part of France and French is almost, as usual for any French territory, only exclusively spoken there. I have noticed that anyone can understand English if you speak it SLOWLY AND LOUDLY ENOUGH ... and have greenbacks to spend, so we were able to overcome the language barrier. The French culture runs deep there, which at least made it a good place to load up on food for our trip.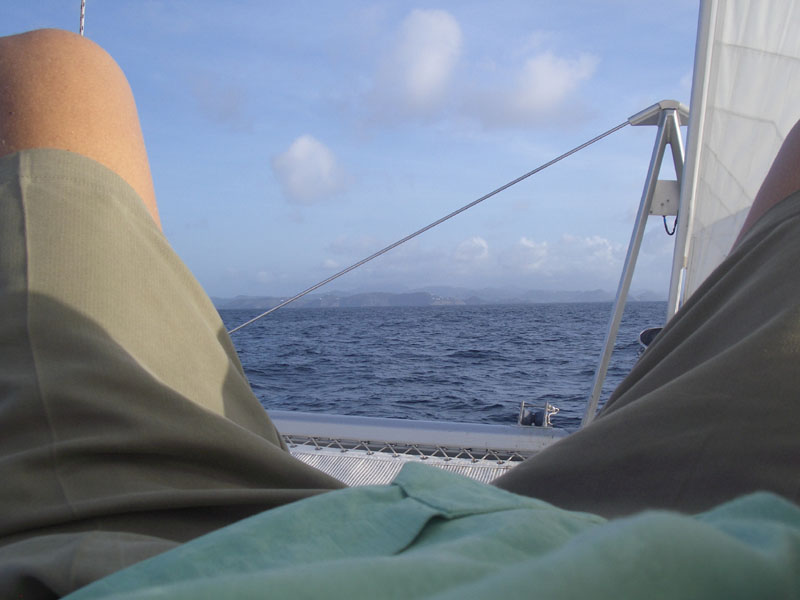 We picked up the boat at noon and sailed south to St. Lucia in steady and strong winds. We pulled into Marigot Bay, St. Lucia, in the dark and, after a couple near misses, found and secured a mooring. Mark and I took the tender (dinghy) out for a night dive near the mouth of the Bay. We set the tender's anchor manually, but still had Rachael stay in the boat with a light to signal to any passing boats that we were there. We saw a bunch of big fat lobsters (that I'm sure we were supposed to catch and eat) but we were lacking the right equipment (needed a snare). Lobsters look slow, but they are wicked fast -- they move faster underwater when you try to grab one than a scared cat does on carpet.
Day 2: Wake up at first light (customs schmustums) and head for Bequia. Bequia has a sleepy little town on the south side called Friendship Bay that anyone would love. We ate at a restaurant on the beach that an American couple were running -- they just pulled up stakes and moved to the Caribbean and are having a great time with it. I wonder what the ratio is of people who dream of doing that to people who actually do that ... a million to one?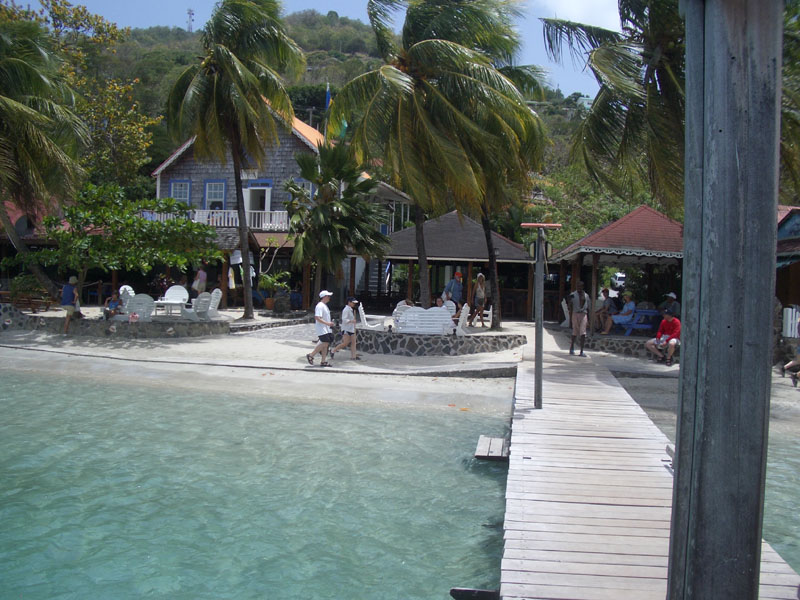 Day 3: Sailed to Tobago Cays, made sure to arrive in daylight as negotiating the large horseshoe shaped reef and it's approach through several small islands and other reefs would be treacherous at best at night. Took the tender out to the reef after dark for another night dive, but the reef was so shallow that there was no point to wearing the gear, so we snorkeled with our masks (but no snorkels). Here the lobsters were a lot smaller so we declined to take any.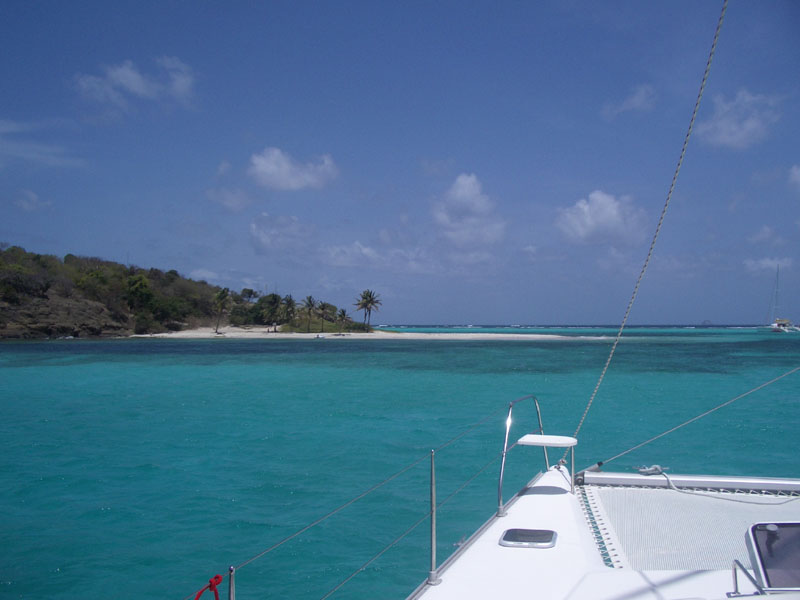 Day 4: Stayed in Tobago Cays, this place is paradise. Mark is a SCUBA instructor and I played divemaster, as Nicole, Kent, Erin, and Rachael learned to dive. After they sucessfully demonstrated their skills in the shallow water by the beach, I took Kent and Nicole on their first dive from the beach out about 100 yards to our boat (pic above). While we were in transit, I stopped and signaled Kent and Nicole to stay on the bottom as I popped up to take a quick visual fix on our bearing to the boat. When I surfaced I was being bore down on by a catamaran bigger than ours, not more than 20 yards away. I dove back down and signaled for Kent and Nicole to stay on the bottom but to look up above them -- just as I did the catamaran flew over under power. Kent improvised with a new hand signal that anyone would recognize out of the water to signal his displeasure with the catamaran's rapid passage in a recreational swim/dive area.
Later that afternoon Mark wanted to dive the reef again. Given that there wasn't room in the tender for everyone and our gear I opted to stay behind with Nicole. Before Mark left I went over their plan and did a risk assessment of the dive with him, my chief concern being capsizing the tender with three novice divers on board while over a shallow reef ... which caused Murphey's Law to kick in. After Mark and Kent enjoyed a great drift dive over the reef, with Rachael and Erin staying on board a bouncy ride in the tender just outside the breaks, the ladies couldn't get the outboard motor to start. So Kent and Mark had to kick up current to the tender. Then, on the way back in through the narrow dinghy passage through the reef, a rogue wave came up behind them and dumped the stern over the bow -- capsizing the boat and dumping everyone and their gear onto the shallow reef. Mark got Kent and Erin on top of the boat and the boat through the passage to the leeward side of the reef, power inflated all the BCDs/tanks while Rachael held onto them until he came back to tow her through the passage. Kent and Mark re-righted the tender and got everyone on board but the motor was swamped.
Back on the boat it was starting to get dark and I was just starting to wonder when they'd be back when I saw them being towed in by another dinghy. All is well that ends well but the old sailor's maxim of "never turn your back on the sea" has proved itself once again.
Day 5: Left at first light for Bequia, dropped off Erin who was by now quite seasick, got the tender's motor fixed, hung out and had a great time, cleared customs, sailed up to St. Vincent (an island of violent history and shady locals), dove a great wall just off the western shore.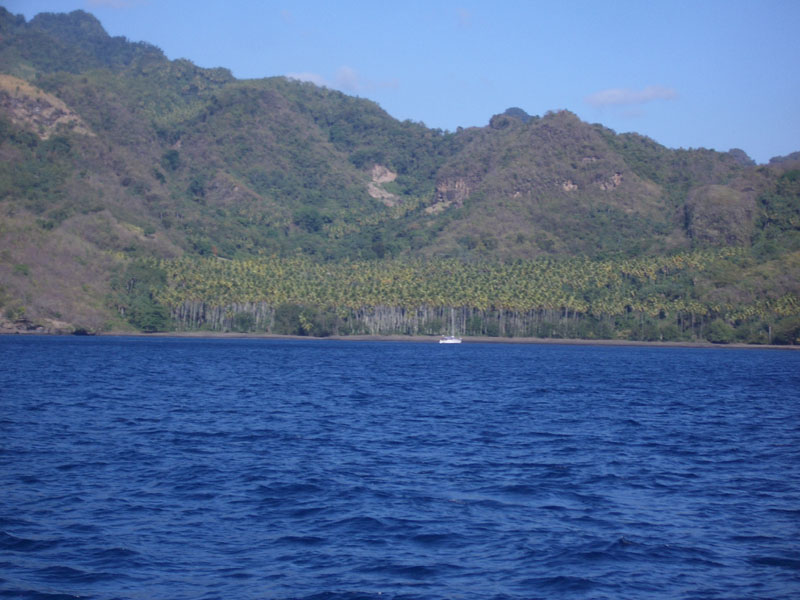 We had dinner after our dive and got underway after dark. The wind was almost on our bow so we motored all the way back to Martinique. Leaving just after dark we planned to arrive at day break, I took the first shift. These are the windward islands and when you are not leeward of one of the islands the wind and seas are quite strong. Waves over bow and rough riding brought Rachael on deck to try to overcome her seasickness. I kept the course until about 2am, well after I had set our last waypoint on the GPS and verified that we were on course. Not long after I got into my bunk we cleared St. Lucia and the waves came at us in earnest. I was going into 0-g's in my bunk as the bow fell off of the waves, then the hatch above my bunk started to leak so I realized there was no point in sleeping and went back on deck. I stayed up until we got into Martinique, helped set anchor and then passed out.
Day 6: We anchored the night before around the corner from Le Marin, where the boat was due, at a nice little place called St. Anne. We woke up and had a nice breakfast on board then weighed anchor and returned the boat right on time.
That was several days ago now, I'm still windblown and tired but happy to my core. For less than the cost of a quality hotel, you can rent your own boat and travel around at your leisure and enjoy views and adventures that no hotel could ever afford you. I think I'm hooked on bareboating -- this was our first annual adventure.
Posted by rick at
05:39 PM