Kitty!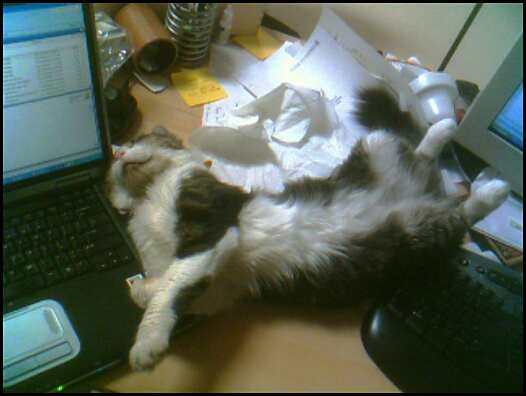 I've been craving a pet for a decade now, but I keep thinking that my situation (life, work, etc.) isn't stable enough for a pet. So I started to think about an Office Cat. It's officially my cat, but he lives (and works?) at the office so even if I'm traveling he has other monkeys to keep him company.
I went to the nearby Palo Alto animal shelter several times and looked at what they had. There was a late season of kittens this year, but they are the most desirable adoptee's so they'll have no problem finding homes, and they take extra work to litter box train etc. So I went for an adult cat. I narrowed it down to two, brought in some second opinions, and then came home with "Buddy" (formerly known as "Love Muffin"). He is a 1.5-2 year old cat that was found as a stray. He had not been in the shelter long, just put on display in fact, and I snatched him up. He's super happy with his new home, and has been here long enough to get to go outside whenever he wants.
It's been the best thing I've done in a long time. He's affectionate and well tempered and playful and ... just look at him, he redefines cute! Every office should have one.

Posted by rick at
03:01 PM